It's not because you love purchasing discounted items you're a cheapskate. You're just being a wise buyer as well as smart buyers like you often get the best deal in town and sellers or distributors likewise are more than happy when they're offering such wonderful items with affordable price even there's no special event or whatsoever.
The one thing that can keep you from all those wardrobe dramas, is choose an item that no matter what, you'll wear, it doesn't clash with your overall outfit throughout the day or the popular term "OOTD".
HK Scarf is very happy to announce about the cut off price promo on their Pashmina Scarves for Women or Men's clothing items where you can save as much as 17% on its original prices for wholesale.
This professionally hand made pashmina scarf is made of 50% cotton as well as 50% high quality hard fiber material that is why it provides a quality texture of soft, easy, shimmering but yet strong fabric appearance.
Why wait when you can now get this excellent piece of dress accessory because when you do:
You will never be deceived from obtaining an unsuspected low quality scarf because what you got is genuinely made from top quality material
You will feel the absolute comfort when it touches your skin
You're fashion sense will be exhilarated overnight
Your wardrobe insecurities will end
You don't have to worry about matching up your clothes mainly because it automatically marches with any dress you put on
You can wear it any occasion and any weather condition
And best of all it is very affordable throughout the year through.
Today, the scarf is no longer the exclusive domain of women and also an indispensable winter man's clothing embellishment. Certain fashion elements which are gaining prominence are the tassel scarves, printed pattern men's winter pashmina scarves, and even the elegant long silk scarves in bright colors.
Men scarves, no matter wild style or gentle elegant style, really show off this season. The delicate silk scarves are gorgeous. A random knot highlights the subtle gentlemen temperament. A slender elegant silk scarf, tied at the wrist or waist, presents man's deep tenderness. The hand made scarves, rich in texture and pastoral atmosphere, create a warm and comfortable visual experience.
Men scarves can be divided into three categories based on the materials: silk, wool cashmere, and man-made materials. Men prefer the former two materials to show their mature and successful images. Silk scarves go great with suits and wool cashmere scarves look great with outerwear.
Extra care must be given to choose the fabric itself when working with plain, English patterns. A stylish man might have two cashmere scarves – a solid colored one and a plaid one. Plaid pattern scarves display a gentle and beautiful classic fashion yet the one hue scarf is based on the complexion of a male. Those two scarves can be worn with different occasions.
The double-sided scarf is the first choice to business elites for its texture. Scarves for men, especially cashmere and silk, are an extremely hot item in men's apparel. Brilliant fine silk is on one side while warm, soft cashmere is on the other. Once wrapped on the neck, your fashion taste shows up. Equally a scarf of one colour, and those with darker fringes may demonstrate your own taste for a business meeting.
A long silk scarf could be the favorite for fashion men. When a butterfly scarf knot on a man's neck, you will be deeply moved by the romantic atmosphere from the elegant long silk scarf. A solid color silk scarf will draw much attention to a trendy man. A neutral fashion statement is a contrast to the traditional design. One way to infuse new life into your wardrobe without spending a lot of money is to incorporate silk scarves into your manly wardrobe.
The ideal selection of pashmina scarf for men should take into consideration those features that are unique. Different groups of men should pay attention to the following suggestions. If you're a little fat with a short stature, especially stout in your upper body, a scarf in a single, vibrant color or pattern would be a good consideration. The reason is that the deep color reduces the visual sensitivities and plays the role of convergence. Men with a slim body could select the scarf with simple patterns and elegant styles, but in a warm color. If you have a narrow shoulder, an extra long scarf can be your best choice. Drape the scarf around you and toss the ends over your shoulders for a broader appearance. A denser and longer neck wear is a fine choice for a male with long neck. It will appear your neck is shorter with the scarf embellishment draped around your neck and shoulder. For men with a darker skin tone a scarf with neutral colors is the best choice; however, a scarf in a softer tone is a great choice for a man with a lighter skin tone.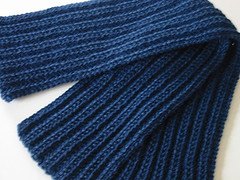 Hand-knit scarves make thoughtful gifts for both women and men. Yet, while it seems easy to choose yarn and knit a scarf for a woman, as so many of the stitching patterns are feminine. An appropriate pattern for a men's scarf is ribbing, which can be created by any number and variation of knitting and purling on the same row, and then repeated throughout the body of the pashmina scarf for men. The basic stitches are easy enough for even a beginning knitter.
1. Cast 32 stitches onto your needles.
2. Knit two, purl two. Repeat across to the end of the row; Purl two, knit two. Repeat across to the end of the row; Repeat Steps 3 and 4 until the scarf is the length desired.
3. Bind off after your last purl 2, knit 2 row. Knit two stitches. With your left knitting needle, pull the first stitch (the one on the inside) over the second stitch and then completely over the tip of the right knitting needle. Purl 1 and repeat the same bind-off step. Following the pattern of the ribbing, continue binding off until you reach the end of the row.
4. Pull the last loop on your knitting needle wider and take out the needle. Cut the yarn, leaving several inches. Put the loose yarn end through the loop and pull tight. Thread the tail through the yarn needle and weave the loose yarn through the bottom of the bind-off row to finish.
A dark, solid yarn color or a tweed is always a safe bet for a masculine scarf. Generally, men's pashmina scarves are shorter than those made for women. If you wish, you may add a short fringe to your men's scarf. Take the time to weave the yarn into the scarf, or it may begin to unravel.